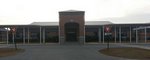 HOME OF THE MIGHTY PANTHERS

200 Providence Road

Quincy, Florida 32351

Telephone: (850) 442-9500

Fax: (850) 442-6126

Valarie Jones, Principal

Kimberly Cummings, Assistant Principal

Shannon Williams, Assistant Principal



Mission

West Gadsden Middle School, in partnership with its parents and community members, seeks to instill in its students high standards for academic scholarship, integrity, leadership, and responsible citizenship.


Vision

Nurtured and educated students who are career, college, and civic ready.


Motto

Building Relationships as We Strive for Excellence!



School Profile

West Gadsden Middle School is the home of the Mighty Panthers. This is a rural community-based public school, located in Gadsden County's smallest municipality (1 square mile), Greensboro, which is about 13 miles west of Quincy, the County Seat.

West Gadsden Middle School formerly known as West Gadsden High School was formed during the summer of 2004 when Chattahoochee High School was closed and the students were merged with students who attended Greensboro High School. Our students are those who formerly attended Chattahoochee Elementary, Greensboro Elementary, and James A. Shanks Middle School. The school name (West Gadsden High School), colors (black, white, and silver), mascot (Panthers), and many other aspects were planned by a council of students representing Chattahoochee and Greensboro High School. The 2007-2008 school term marked the beginning of an era at our new site which is located at 200 Providence Road, on the corner directly across the street from the former Greensboro High School, currently Greensboro Elementary School.



Currently, the enrollment is 482 students, with 236 females and 246 males. There are 253 African Americans (133 males and 120 females); 35 whites (21 males and 14 females); 183 Hispanics (85 males and 98 females); 2 American Indians (both males); 1 Asian (male); and 8 Multiracial students (4 males and 4 females). 15% of the population is Exceptional Student Education students, while 6% is classified as Limited English Proficient. Currently, 79% of the students are considered economically disadvantaged.